This year's Union Budget was in the spirit of "do no harm" in terms of any adverse policies being implemented. Broadly, the various decisions laid out in this year's budget are more "incremental" rather than "transformational" in nature. The education budget stands at Rs 93198.81 Cr (School Education- Rs 54873.66 Cr and Higher Education – Rs 38325.15 Cr)
The Expectation was : "India has the capacity to leapfrog the so-called 'developed' countries over the next decade. As we march towards a 5 trillion dollar economy, we must make the development inclusive for all by making education and skilling a national priority."
Union Budget 2021-22 comes as a big disappointment for education sector as it fails to allocate the required amount to undo the impact of the COVID-19 pandemic.  On the face of it, there was a 6.1 percent lower allocation over the previous year (Rs 93,224 Cr vs Rs.99300 Cr in 2020-21). The reduction is in both higher as well as school education. The flagship National Programme of Mid-Day Meal in schools, gets Rs 11,500 crore as against Rs 12,900 crore in revised estimate 2020-21. A separate allocation anticipated for the National Education Policy 2020, did not find a mention. Operation Digital Board (ODB) saw no increase in allocations for BE 2021-22
The budget allocated for SamagraShikshaAbhiyan for 2021-22 is only INR 31,300 Crore, far less than the budget allocated for 2019-20 which was INR 36,400 crore and also less than the Actual Expenditure of 2019-20 which was INR 32,376.52 crore.
The government made no allocation under the Education Scheme for Madrasas and Minorities in BE 2021-22. In the revised estimate 2020-21, a sum of Rs 310.22 crore had been set aside for this purpose. A new allocation of Rs 10 crore has been set aside for a segment called 'Indian Knowledge Systems'. This segment will look into elements of knowledge from ancient India and its contributions to modern India and its successes and challenges. Part of NEP 2020, the expenditure budget said that this ancient India knowledge will be incorporated in an accurate and scientific manner throughout the school curriculum wherever relevant.
At the same time , people have lauded the proposal for creating new formal umbrella structures in 9 states will also be good for coordination of states and bringing in synergies. The proposal to strengthen over 15,000 schools qualitatively under the new National Education Policy (NEP) is also the need of the hour especially to align with the vision of the NEP which talks of use of technology and digitization of education. These schools will act as exemplar schools in their regions for mentoring others.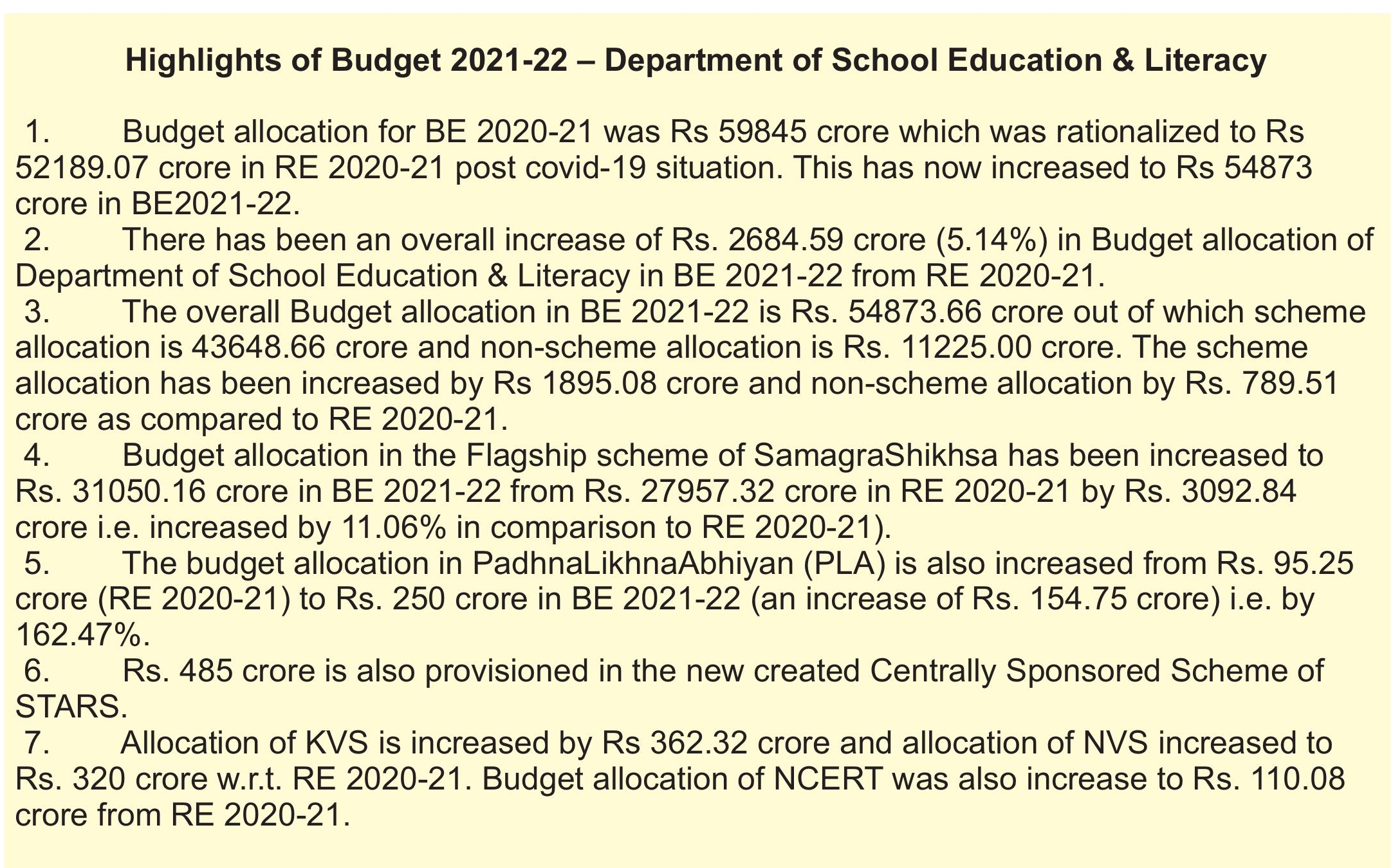 Here is a cross-section of reactions from academicians, education administrators, experts, providers and analysts"
"During her speech, the Finance Minister didn't even mention about millions of children were deprived of education as they were unable to access online learning, nor did she mention about ensuring low and no-technology options, for those deprived. Government's Shrinking Responsibility and meagre allocation will lead education towards adverse situation affecting the future of millions of children. It will encourage privatisation and commercialisation making road to profit–making private players," said Ambarish Rai, National Convenor, RTE Forum.  Rai expressed his disappointment saying that instead of increasing allocations to strengthen an Inclusive Public Education System, the government is paving the way for privatisation and PPP model in education. This neglect will adversely impact children, particularly those from poor, marginalised communities and also girls, adding to the already increasing number of Out of school children in India. The commitment to universalize secondary education (SDG Goal 4) by 2030 will also remain a distant dream.
The impact of the COVID-19 pandemic and the extended school closures has led to a loss of learning days, during this time, children from marginalised communities unable to access online education were involved in household chores and the possibility of these children dropping out of the education system looms large. "In such a situation, a mere mention of 15,000 exemplar schools to be created in line with NEP is not enough. There was no mention of operationalisation of the Gender Inclusion Fund (promised in NEP 2020) which is essential given the disproportionate impact of the pandemic on girls. Instead, funds for the National Scheme for Incentive to Girls for Secondary Education got reduced to merely Rs 1 crore from Rs 110 crore last year," he added.
The Union Budget should have focused onthe exceptional challenges arising out of COVID-19 pandemic and made necessary allocations to ensure:
(a) ensure safe school operations and re-opening of schools;
(b) support measures for recovering all marginalized students' learning loss and socio-emotional impact during educational disruption;
(c) ensure (re)enrolment and targeted support for learners who are at risk of not returning to school, especially, dalits, adivasis, girls, those living in poverty and persons with disabilities;
(d) In view of evidence of the existence of a digital divide, it would be critical to ensure that low and no-technology options are prioritized over the introduction of digital modes of instruction.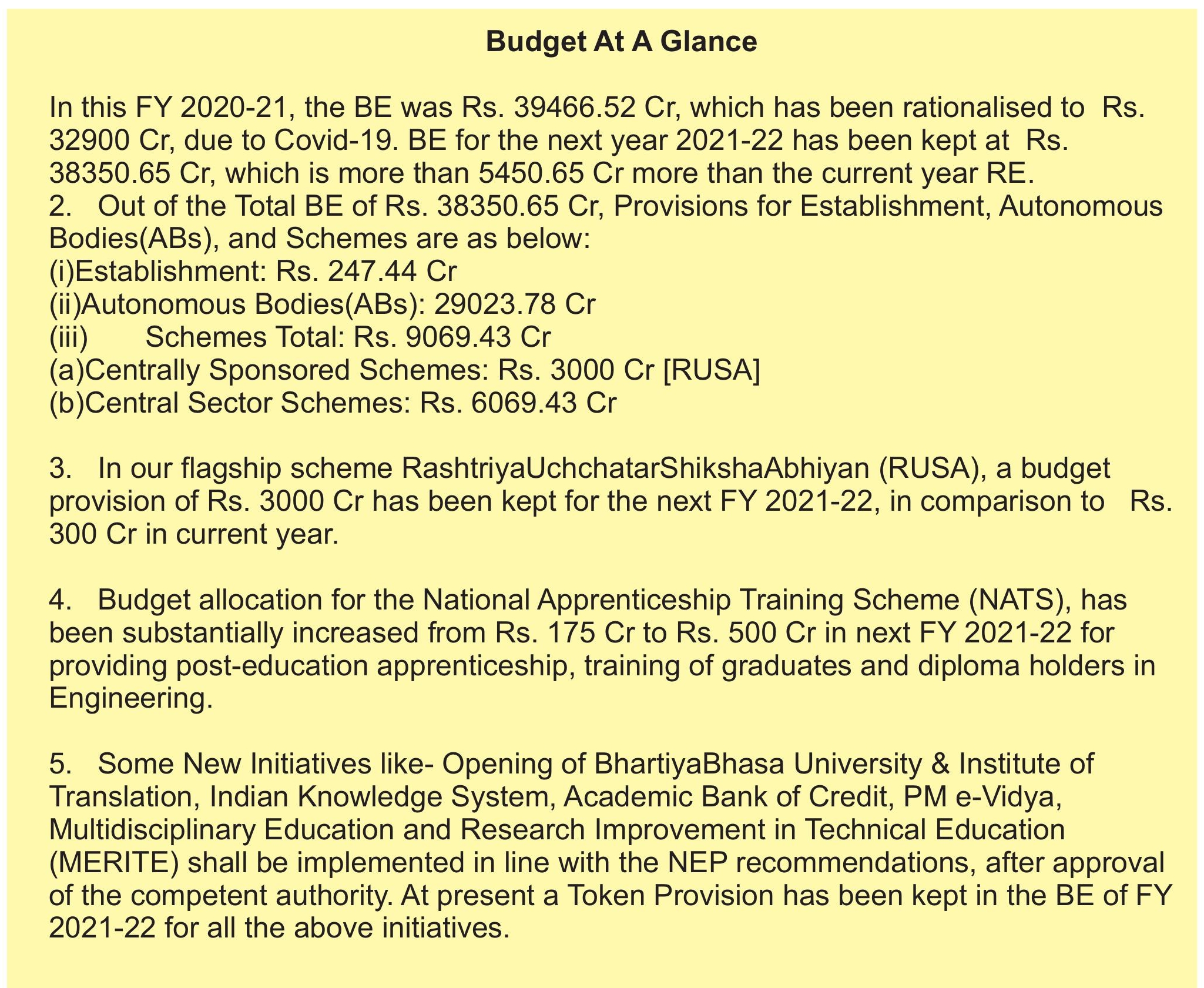 "When it comes to education, the budget has announced every needed move to make education reach the last miles of the country be it setting up a higher education institute in Leh or the establishment of many tribal schools in the far-flung areas. The New Education Policy was noted in the Budget as having been well received. The announcement of introducing the legislation this year to implement the setting-up of Higher Education Commission of India will uplift and make the education process in accord with the industry standards, thereby reducing the rampant unemployment rates," – Dr. R.L. Raina, Vice-Chancellor, JK Lakshmipat University, Jaipur
"The establishment of Higher Education Commission with four verticals viz Regulation, Accreditation, Standard Setting and Funding, each working independently, is a welcoming step, which was long due. The regulation perhaps will now hinge on accreditation which is directly related to the quality of education. Allocation of 50000 crores to National Research Foundation over a period of 5 years is very forthcoming. Both public and private institutions will be able to take part with equal stakes to apply for research funding in thrust areas. The creation of nine clusters of academic and research institutions without disturbing their autonomy will certainly be helpful in optimal usage of hard and soft infrastructure, quality knowledge creation and dissemination, and collaborative learning." Prof. Manoj K. Arora, Vice Chancellor, BML Munjal University  
"The formation of National Research Foundation (NRF), with an outlay of Rs. 50,000 crores in 5 years to boost quality and quantity of research in India, is a big push towards promoting innovation and research in the education sector. We are optimistic that research funding will be made available to Higher Educational institutions.
The Government's initiative to set up a HEC responsible for the accreditation and regular funding of the Colleges and Universities will go a long way, in creating better synergy between higher education institutions across the country. The education sector is hopeful that the research funding both from HEC and NRF will be made available as a level playing field between public and private higher educational institutions." Vijay Thadani, VC and MD, NIIT Ltd and Co-founder NIIT University
"Accessibility and affordability of education across the weaker economic strata of society has been a perennial challenge in our country, especially this year with the disparity increasing manifold due to lack of online education infrastructure both at school and student level. This year's budget has indicated a good intention of progress in addressing this gap. Government's decision to strengthen over 15,000 schools under NEP, set up 100 new Sainik Schools, raise allocation for 'Eklavya' schools in hilly areas etc. will provide a fillip to quality education."-  Rishab Mehta, CEO & Founder, GrayQuest.
"The allocation of Rs 50,000 crore in the research & development sector in the next 5 years is an indication of India heading  in its endeavour towards becoming a global tech infused innovation hub- an important step towards "Atmanirbhar Bharat". The allocation of Rs 8000 crore for National Mission on Quantum Computing and Technology will help in establishing our strength in this upcoming technology of the future. The thrust on training and skill will help explore the untapped potential amongst the Indian youth, boosting their employability quotient. Doubling the allocation for MSME sectors will also boost small enterprises and startup. Setting up new investment clearance cell and deferment of Tax on ESOPs will also boost startup ecosystem. Also efforts have been taken to tackle the growing issue of education unemployment with an investment of Rs 3000 crore into the existing National Apprenticeship Training Scheme which aims to provide post-education apprenticeship of graduates and diploma holders in engineering." – Prof. Abhay Karandikar, Director IIT Kanpur.
"With innovation and R&D being the key differentiator for determining growth, there was a need to incentivise R&D in the country. While FICCI appreciates the government's decision to set up a National Research Foundation with an allocation of Rs 50,000 crore, we reiterate the request to bring back weighted deduction of 200% for investments made by private sector towards innovation and R&D."-  Uday Shankar, President, FICCI 
"The proposal for the higher education commission will bring focus on performance and bring clarity to institutions seeking help from the government. The creation of city-based structures to create synergies among higher education institutions located in a city which is also supported by a glue grant is an innovative step. I hope Ahmedabad will be one of the cities selected for the benefit as it has a large number of old and new educational institutions. " –Dr. Anunaya Chaubey Provost, Anant National University
 "The Government's decision to allocate Rs.50,000 crores over 5 years will serve as a great shot in the arm for the country's research ecosystem. Lack of adequate funding has been a constraint for several higher education institutions and this support will enable the institutions and the faculty to produce high quality, rigorous research output.  The creation of the Higher Education Commission of India (HECI) as an umbrella structure having four separate bodies for standard-setting, accreditation, regulation, and funding under it will bring in synergies across higher education institutions. In addition, a regulatory mechanism to promote academic collaboration with foreign higher educational institutions will help pave the way for Indian higher education institutions to become truly global in the near future"- Dr.Dishan Kamdar, Vice-Chancellor, FLAME University
"At 600 million, the youth comprise more than half of our population, and the budget has included announcements to improve their lives and education, as well as the future of the nation.  The announcement to strengthen 15,000 schools as part of the National Education Policy (NEP) 2020 will be a major fillip to the quality of school education. The proposal to start an apprenticeship and embedded degree and diploma courses for students in non-science and technology streams in 150 higher education institutes by March 2021 will increase the available opportunities to students for upskilling and employment. It's also likely to open up more opportunities for edtech companies to collaborate with the government education sector. Ganesh Raju, Founder & CEO Ken42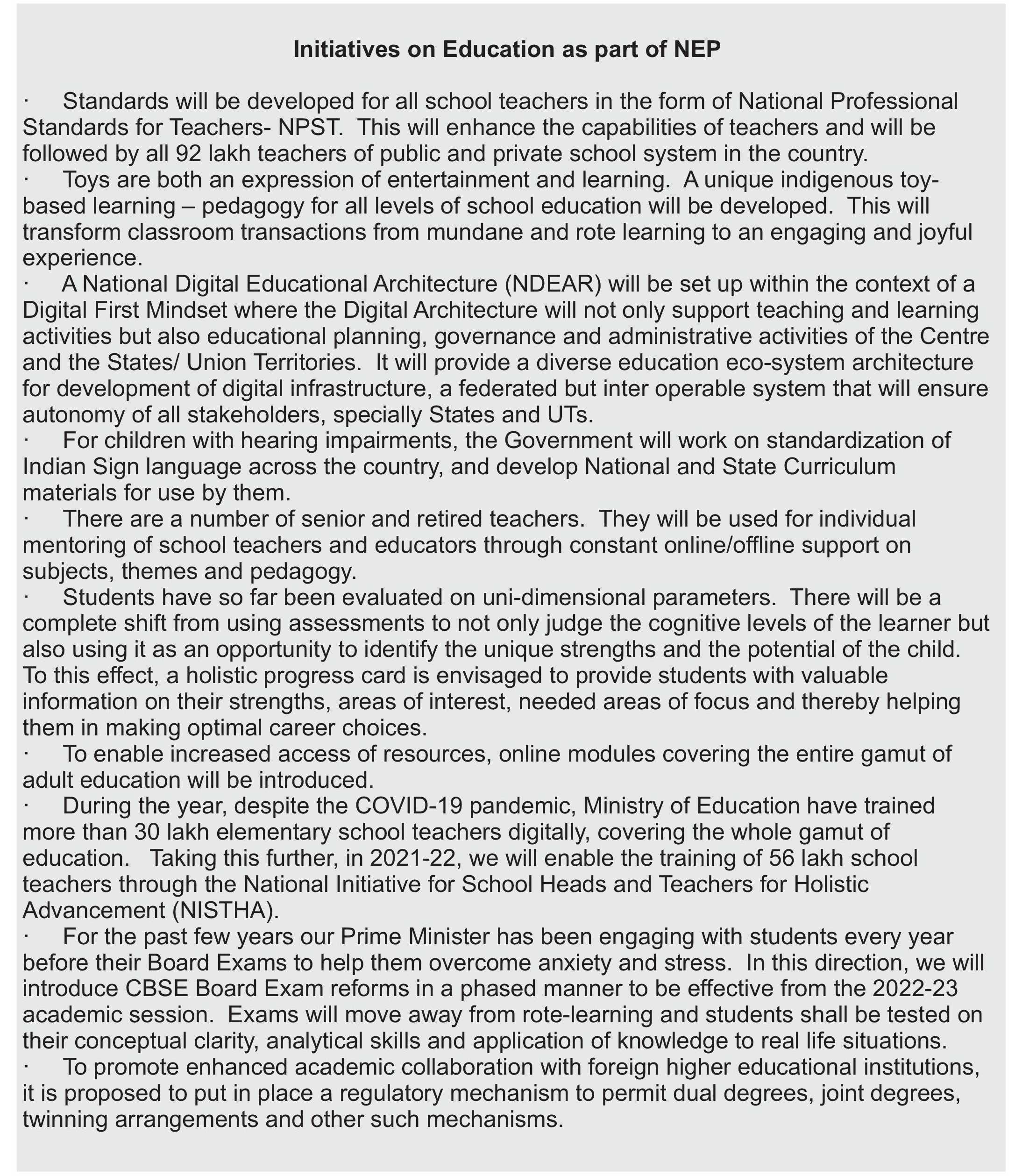 "Education sector has been seriously hit post Covid both in terms of financial sustainability and also in terms of learning outcomes. This budget hasn't had anything specific to expand budgetary spend to offset covid impact. But it is not surprising as there is not much fiscal cushion this year for the Government. Setting up 100 sainik schools is a good step but would at best be a small ripple in terms of impact. But the 750 eklavya model for impoverished communities is a great step but we hope that private operators are invited to set up model schools. We hoped to see more clarity on setting up institutions to strengthen assessments on critical skills enumerated by the NEP and hope that the MHRD provides clarity on this sooner." – Vishnu Karthik, CEO Xperiential Learning Systems and Director, The Heritage School
"The greatest strength of budget 2021, also dubbed as the "recovery budget" lies in the recognition of its role in rebuilding sectors deeply affected by the ongoing corona virus pandemic over the last year.The 2021-22 budget outlined some solid steps towards the implementation of the exemplary New Education Policy. The budget has also paved the way for greater collaboration and cooperation among different educational institutions and within the larger educational community in a region by guiding 'exemplar' schools, with exceptional qualitative standards to mentor other schools in the region in order to help them develop on similar lines. This will go a long way in cultivating the much needed spirit of working and growing together within the schooling community. "- Col. (Retd.) Gopal Karunakaran, CEO, Shiv Nadar School.
"The National Education Policy has clearly shown India's vision and bright future for school education and higher education in the country. Its implementation in 15,000 schools is an excellent start toward a more holistic education approach and a good deliverable for the union budget. International partnerships are a must for India to become a global workforce supplier. Partnerships with countries like UAE, which have been successful in improving the quality of learning outcomes with their national standards and licensing systems, will act as key drivers in bringing our education system at par with international standards." –  Rishabh Khanna, Cognitive Scientist & Founder of Suraasa
"The government's decision to strengthen school education with the implementation of the National Education Policy across 15,000 schools despite the hurdles owing to the COVID-19 pandemic shows clear intent. However, the rollout and implementation across all states should be done within a couple of years to bring parity for students to access education across the country. The participation of the private sector and NGOs in managing and operating schools will be an enabler in providing a modern and high-quality framework for education and boost the sector to engage with many more projects under the public-private partnership model."  – Rustom Kerawalla, Chairman, Ampersand Group
"This is a realistic budget and the allocation of budget for health, education, and skill development are really good initiatives. We were expecting digitalization in education but increasing expenses of mobile and electronic products will lead to the problem in education and this is a step back in digital India. Though the government made a positive move by increasing the number of universities, amendments in the apprenticeship training scheme and training scheme, this may not be enough for the World's largest young population with 600 million people under the age of 25 years. Overall the Budget is very progressive and transparent." P.C. Chhabra- Executive Director, Sanskriti University
 " Given the economic crisis that we are in due to Covid and that there several competing social sectors that demand great attention, it is high time that the State and Central governments invite private capital to invest in education. This would mean higher investments through the private sector and FDI which could then be regulated by a government body.
As per UNDP estimates, the total financial requirement for India to reach SDG 4 by 2030 averages $173 billion per year, far exceeding the current government budget of $76.4 billion a year for education. Government schools spend about Rs 24,000-30,000 per child per annum, while in private schools, 91% of students pay lower than Rs 24,000 per annum. In contrast the average per student expense in the US is about $13,000 per annum. Schools will only invest in post-Covid-19 technologies if there is some predictability in regulation and freedom of salaries, fees, and curriculum. We have been wishing for opening up and formalising the sector and ensuring long term responsible and patient capital, giving the much- needed confidence to potential investors to invest in the sector and expect legitimate RoI as spoken about several times in the past."  Manit Jain, Chairman, FICCI ARISE; Co-founder, The Heritage Group of Schools
"The implementation of NEP in 15000 schools to create a model is a good move. It will promote coherence among educational institutions and increase the flexibility in education delivery by using face-to-face, online and hybrid models. Collaboration with countries like Japan for sharing of technology and UAE for skill development courses are also welcome moves. These will increase the chances of employability for our youth. The steps to set-up a Higher Education Commission and 750 Ekalavya residential schools in the Tribal Areas are also commendable. These steps will allow students from across the country to have access to quality education." – Irwin Anand, MD, Udemy India
"The 2021-22 Union Budget has provisioned to merge the supplementary nutrition programme under the Anganwadi Services Scheme with Poshan Abhiyan. It is indeed a welcome move by the Government. At a time when we are threatened with the massive burden of malnutrition, it's better to have our efforts aligned under one umbrella. Though the Government has been making several interventions in the past to improve nutrition, allocating additional resources will help broaden the base of people reached. Considering that during the pandemic, school going children were deprived of mid-day meals, it is imperative that nutrition deficit is tackled on a war footing. I look forward to Mission Poshan 2.0 that will create a positive impact on public health & nutrition and rid the nation of hidden classroom hunger. As a foundation we are committed to working with the Government in meeting UN's SDG goals of Zero Hunger by 2030." – Shridhar Venkat, CEO, The Akshaya Patra Foundation
 "It's an encouraging budget overall, however, did not address the GST issue. Finance Minister Nirmala Sitharaman, while presenting the Union Budget 2021-22, announced that over 15,000 schools are to be qualitatively strengthened to include all components of the National Education Policy. This is indeed a commendable step by the government for the effective Implementation of NEP as these schools will mentor and work as a model for the policy implementation across the country." –Monica Malhotra Kandhari, MD, MBD group.
"The prolonged closure of educational institutions for almost a year due to the Covid-19 pandemic has put immense duress with schools feeling the heat of financial stress now.The qualitative strengthening of more than 15,000 schools under the New Education Policy (NEP) shall assist in achieving the ideals of the policy. In addition, the setting up of a 100 Sainik schools is a good step that will further create a ripple effect in terms of impact. The 750 Eklavya model Schools for impoverished communities is a great move too, and we hope that private schools are also engaged in the setting up of these schools."-  Charu Wahi, Principal, Nirmal Bhartia School.
 "The budget paves the way for a phased implementation of the National Education Policy with the first step of bringing 15,000 schools across India under the policy's ambit. This will help minimize any widespread disruption in the pedagogical processes or curriculum, as these schools will serve as models for the other schools to follow. The other schools will draw their lessons from these model schools for a smoother implementation of NEP in the future. I also welcome the move to set up Sainik Schools and Eklavya Schools as these will help bring more equality in education. I strongly endorse the proposal for National Professional Standards for Teachers (NPST), as expressed in annexure 5 of the budget. This proposal will set an important benchmark for teaching standards in Indian educational institutes." – Shishir Jaipuria, Chairman, Seth Anandram Jaipuria Group of Educational Institutions
"The proposed National Translation Policy will facilitate access to education without any language barriers. The budget could have done more in the direction of e-learning and skill development.Nevertheless, it is a significant step towards shaping the trajectory of the education sector in the post-pandemic scenario." – Rohit Manglik, CEO, EduGorilla. 
"National Education Policy which was announced in July 2020, higher education institutions will have to invest in technology and training. But the budget missed out on introducing any measures to support the adoption of NEP. It also missed out on bringing in methods, to fast track digitization of education, that could have helped the country improve its GER and bring in many more aspirants into the fold of higher education. The only silver lining was the proposal to amend the Apprenticeship Act – a focus towards degree apprenticeship programs can help create a new form of education that solves the problem of employability, higher education financing and skill development. –Shantanu Rooj, Founder & CEO, Schoolguru Eduserve
"The announcements for the education sector in the Union Budget 2021 spell out a road map towards inclusive education in India. From setting up of a central university in Leh to setting up 750 Ekalavya Model residential schools in tribal areas to 100 new Sainik schools to revamping of a post-matric scheme to a proposal to amend the Apprenticeship Act, the announcements clearly indicate a concerted effort towards making education accessible, available and affordable to all and to the remotest and farthest of the places in the country."– Dr. Chandrima Sikdar, Associate Dean, School of Business Management, SVKM's NMIMS Deemed-to-be University
It is the quality of primary education that is really hurting human and economic development. While India has over 15 lakh schools which are reportedly three times that of China's, 40% of them are unviable with less than 50 students and 2 to 3 teachers. Considering that we have about 935 districts in the country, the 15000 schools to be strengthened constitute an average of 16 schools per district which is significant. These schools can serve as model schools and have a spin-off effect on education in the rest of the district and trigger a revolutionary improvement in primary education. DR. Suresh Mony, Professor Emeritus, SVKM'S  NMIMS Bengaluru Campus 
"We are glad that the Budget has addressed on strengthening digital ecosystem through National Digital Educational Architecture (NDEAR) and training/upskilling of teachers.Having said that, the Budgetary allocation to Education sector remains the same as last year which is Rs99,300 crore. Increased funding as a percentage of GDP would have ensured strategic allocation in the right direction to support online learning and strengthening digital infrastructure for online learning." –  Sunit Gajbhiye, Chief Business Officer, Financepeer.
"With the promise of introducing more schools following the NEP policy, the focus will be on the training and development of 56 lakh school teachers under the policy which will surely put forth education in a different & enhanced way. Kiran Dham, CEO, Globus Infocom Ltd
"The announcement of setting up a National Digital Educational Architecture (NDEAR) is a great initiative to march towards a Digital First Mindset which will not only support teaching and learning activities but also educational planning and governance. Furthermore, skill enrichment programs to be initiated in collaboration with UAE will open the doors to new opportunities for the youth. Despite the steps taken for the betterment of the educational ecosystem, we feel the budget lacked specific mentions for higher education. Hence it will be interesting to see the implementation of new laws that will lay more focus on the higher education system. Having said that, we do feel that the allocation of 50,000 Cr for research will strengthen the education system in the country." Kounal Gupta, Founder & CEO, Henry Harvin Education
"From the education sector it's a budget of hits and misses. The hit is the NEP implementation and it's allied spaces. There is a definite plan for it. It is seen. The major misses are a macro level digital infrastructure at the rural school education level and a major support space for indian Ed tech companies. We needed to see major government cover for these and we haven't got anything big on it. It's a major letdown in that space." –Joyanto Mukherjee, Media Education Expert 
"The budget has focused on improving accessibility through  Eklavya schools for SC, ST, disabled students, tribal and hilly areas. It has further been proposed the establishment of National Digital Educational Architecture (NDEAR) which is expected to further push the adoption of digital education, and the quality of teaching and learning in the coming years. Apart from the above, the budget has proposed establishment of National Professional Standards for teachers for the holistic development of teachers.-" Saakshi Kanwar, Senior Manager – Ratings
"The strategic and deliberate decision to introduce the New Education Policy will further improve the overall state of students across the country. It is also expected that the Finance Minister's decision to promote greater autonomy with focus on universalisation of education from pre-school to secondary level will boost the morale of institutions and encourage them to go above and beyond to deliver a superior result."- Swoyan Satyendu, COO, ODM Educational Group
"Overall the budget seems promising and the budgetary allocations towards schools and national research foundation is expected to boost the education and research culture in India but this could have been given an additional boost if the Finance Minister would have laid some impetus on online education and online education infrastructure. However, the education sector would now wait to see the roll-out of the National Education Policy that promises hybrid mode of learning as the future" Rohit Gajbhiye, Founder Financepeer
" With 15000 schools to be strengthened, we expect the policy of whiteboard and digital education in every school just like the Radhakrishnan Commission recommendation of blackboards in every schools. We could also expect mission tablet- where tablet to be provided to teachers as well as students within the context of Digital First Mindset to build Digital architecture to support the teaching and learning activities. 
We also appreciate the tax holiday for startups and capital gains exemptions for startups by one more year which is going to be proved beneficial for early-stage startups to fund their growth."- Kauhsik Sharaf CEO & Founder Cymatic