The Big Little Book Award was instituted under Parag initiative of the Tata Trustss in 2016 by Parag to recognize and honour significant contribution of authors and illustrators to children's literature in Indian language(s) this year entered its fifth edition and chose author Subhadra Sen Gupta, and illustrator Rajiv Eipe for the Big Little Book Award 2020.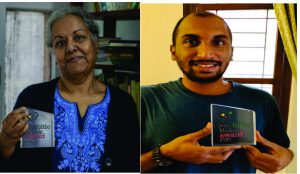 The winners have been awarded for their significant contribution, through their books and illustrations to Indian children's literature in English language as this year the language eas English. In the previous years, the award considered children's literature in Hindi, Marathi, Bengali, and Kannada.
The total number of nominations were received this year was 318 and winners were selected based on the quality of their body of work by jury members.
Subhadra Sen Gupta has authored such popular books, like The Constitution of India for Children, The Secret Diary of the World's Worst Cook, History Mystery Dal Biryani, Let's Go Time Traveling, Girls of India? A Mauryan Adventure. Eipe's illustrations have mesmerised children in titles, like Dive, Pishi and Me, Ammachi's Amazing Machines, Oh No! Not Again!, Dinosaur as Long as 127 Kids.
As mentioned by the Jury, "Subhadra is a prolific but a particular writer and takes a route that is not an easy one. She writes thoughtfully, well researched books. We can count on her rigour and her background research to stand by her content and always find her positions are balanced and enable the reader to arrive at their own decisions. Something very few writers for children in India in English can add to their list of qualities in writing."
"One of the finest illustrators in this country, Rajiv is brilliant with his skills and his illustrations tell stories of their own. His illustrations have a wonderful way of entertaining the reader. His work stands out in originality and his observations of the world around us is sensitive and full of humour. A book with Rajiv's illustrations is visually attractive, informative with details that are delightfully quirky and takes a reader to a world of imagination and fantasy effortlessly", the Jury said.