Under this partnership, National Skill Development Corporation (NSDC) will act as a 'Knowledge Partner' for Jagriti Digital Yatra 2020. It will assist in driving awareness and to motivate youth to join Jagriti Digital Yatra 2020 campaign through its skilling ecosystem which includes sector skill councils, training partners, and training centres. NSDC participants (digital yatris) will get a discount of 20% on the subscription fee, which will be applicable only for first 100 registrations.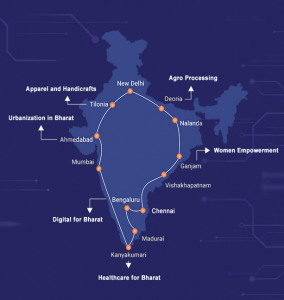 Jagriti Digital Yatra 2020 seeks to multiply the number of participants, outreach, and its impact. It will engage 3,000 Digital Yatris using digital platforms for group work and experience, bringing enterprise learning through role model visits and digital maps. Yatris will interact through live sessions with 12 role models at key locations where the yatra stops and will undertake business plan competitions. The yatra will have national speakers like Dr Kiran Bedi, Dr. RA Mashelkar, R. Gopalakrishnan among others. The yatra will host panel discussions on 6 key issues relevant for smaller towns and districts – Health, Women empowerments, Digital, Urbanization, Agriculture, Apparel and Handicrafts, subjects that are the focus of the Jagriti Enterprise Center – Purvanchal (JECP). The yatra will have 90+ hours of content and engagement with 200+ speakers over 15 days. Peer to peer interaction with participants forms the core of the digital learning process, with online learning-by-doing.
The Jagriti Digital Yatra will carry over 1,000 Digital Yatris on a journey of national exploration through digital means for 15 days from 24th December 2020 to 8th January 2021 (visit https://www.jagritiyatra.com/ for more details).
Sharat Bansal, Chairman of Jagriti, Co-Founder of JECP said "The Jagriti Digital Yatra 2020 represents the spirit of Jagriti and that of the country. When there is a crisis, we will rise undaunted, creating a larger journey and a wider message of enterprise across the country. Jagriti is a charitable organization with the mission of Building India through Enterprise with a particular focus on small towns and districts – Middle India."
Dr. Manish Kumar, MD & CEO, NSDC, said, "New economy entrepreneurial models differ from traditional business models. The NSDC-Jagriti partnership aims at mentoring youth to build viable and sustainable entrepreneurial ventures. The digital journey will be an immersive experience for participants, delivering challenge-discovery, idea-exchange, problem-solving and best-practices through collaboration and coaching."
At the core of JDY 2020 is the belief that entrepreneurial energy must be mobilized for revival and growth. With due encouragement and support, leaders in the middle can create local enterprise and local employment helping revive the country as a national movement. The Jagriti Digital Yatra will reach out to millions of Indians during these 15 days virtual journey.