The reopening of colleges after two-years of closure has its own challenges and everybody agrees that back to college or school to pre-covid routines will take its own time. Examinations, however, as always remained a high-stakes issue all these two disruptive years and even now in recent weeks a large number of students have been favouring continuation of online mode of examination for the current odd semester as students have not settled on campuses and upcoming exams in the month of April are so near.
Particularly in Mumbai, students have campaigned on this issue and early this month Mumbai University, which has 781 affiliated colleges in Maharashtra issued a letter to autonomous colleges directing them to hold examinations in a computer-based online mode. Non-autonomous colleges had already that option in place. The non-binding order at the same time allowed some autonomous colleges to stick to offline mode. One of these colleges is St. Xavier's.
"Since the university is holding exams online, there will be a disparity in marks. They will not be tested on common grounds. To ensure there is no academic loss to them, we are requesting these colleges to hold exams online," said joint director, Sonali Rode.
"The students from the other colleges will be giving their exams online and will undoubtedly do better, whilst those of us who are studying in autonomous institutes will take the exams offline. As a result, there will be a variance in final results, which will have a direct impact on our future chances," fear students of St. Xavier's college as according to them the administration of Saint Xavier's College refuses to comply with the wishes of its students. The students have also accessed chat of principal where he is saying CGPA is not considered by foreign universities in admissions. The students say this is not the truth.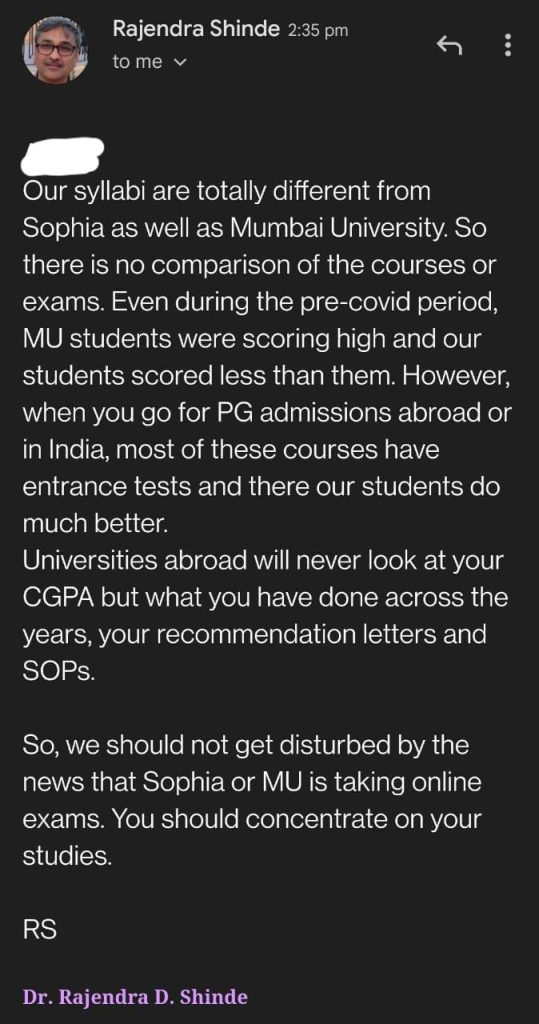 The issue of at outstation destination is also being cited as reason for online mode as some of them have to come from  as far as Manipur and Dubai. "We respectfully request that you contact the college administration to explain our situation and persuade them to switch the examination style to online," said the students.