In almost a rerun of 2020, Central Board of Secondary Education (CBSE), has decided not to hold class X examinations this year in wake of a severe second wave of covid infections hitting large parts of the country towards the end of March.  The class X exam was scheduled from May 4.  Talking about the results, the board said the result will be prepared on the basis of an objective criterion to be developed by the board.
In case of class XII, which was also to begin on May 4 till June 14, the board has postponed the exam as of now. A review will be held on June 1 and after that any decision will be taken.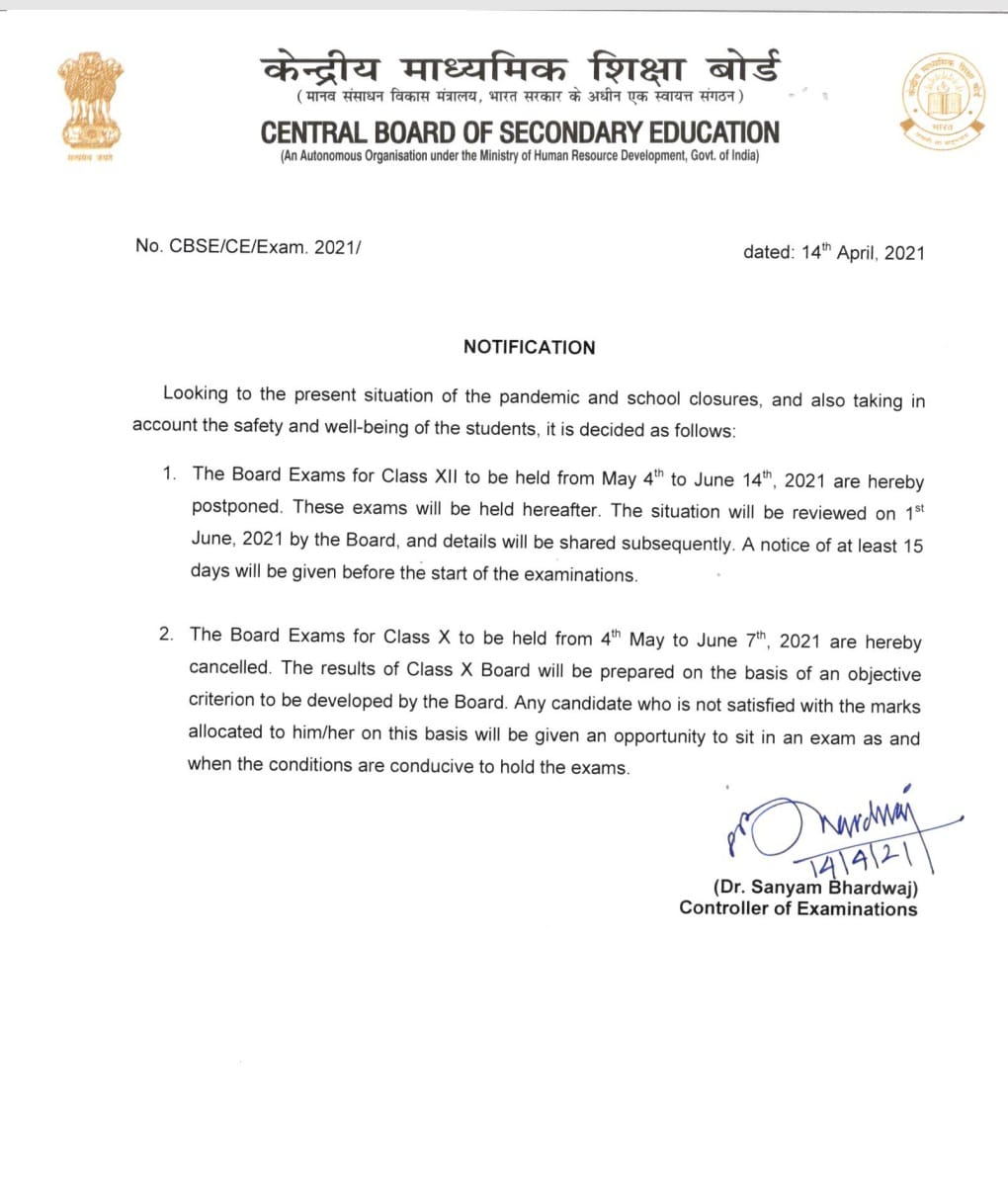 The decision was held after PM Modi sat with with Education Minister Pokhriyal, Secretary & other important officials to discuss issue of CBSE Board Exams on April 14 and reiterated that the well being of the students has to be the top priority for the Government.
Today Hon'ble Prime Minister Shri @narendramodi Ji chaired a high-level meeting to review the examinations to be held at various levels in view of the developing Corona situation.

— Dr. Ramesh Pokhriyal Nishank (@DrRPNishank) April 14, 2021
A few state boards have taken a cue from CBSE and followed suit. ICSE decision will be known in a couple of days as per sources.
Earlier, with rising covid cases there was a growing chorus for cancellation of the exam.  Main opposition party, Congress, joined those demanding cancellation.
In the light of the devastating Corona second wave, conducting #CBSE exams must be reconsidered. All stakeholders must be consulted before making sweeping decisions.

On how many counts does GOI intend to play with the future of India's youth?

— Rahul Gandhi (@RahulGandhi) April 11, 2021
Meanwhile AAP party has demanded cancellation of class XII exams as well.
"I am happy that Class X exams have been cancelled, although for Class XII, it has only been postponed.

I appeal to the Central govt to promote Class XII students on the basis of internal assessment & remove their anxiety."- Education Minister @msisodia #cbseboardexam2021 pic.twitter.com/gNGEVGbwOw

— AAP (@AamAadmiParty) April 14, 2021
DMK president M K Stalin citing the case of CBSE demanded postponement of JEE and NEET. "CBSE exams have now got cancelled due to the second wave of #COVID19. With increasing cases and fatalities, when our doctors are fighting hard against all odds, is this the right time to hold National Eligibility Cum Entrance Test (NEET) for PG courses?" he tweeted.
A radical suggestion on board exams amidst this protest came from former HRD minister and Congress leader Kapil Sabil who said that Class X Board exams should be abolished. "There are better ways to assess students Our education system needs a complete overhaul," he tweeted.
Meanwhile here are some reactions from principals of schools affiliated with CBSE:
This last one year of the pandemic has been extremely challenging for both the teaching fraternity and the students.We have moved from physical schools to the online medium and our students have adapted beautifully to this new normal.  In  these unprecedented times, the government has found the most viable option.It is the best decision taken towards minimising the risk of spreading the deadly coronavirus amongst students,teachers,employees of the school and their immediate families… Padma Srinivasan, Principal Delhi Public School RK Puram 
In view of the Covid cases increasing exponentially, we appreciate the decision to cancel the Class 10th Board examinations . Class 10th Board  exams are not the school-leaving examinations marking the transition to higher learning institutions; the result of 10th Board helps students and teachers assess the stream choice and the subject allocation .
In such a time when the pandemic has reached its peak, it is better to calculate their result on the basis of internal assessments and overall performance. The focus should be now to address the learning gap that has already occurred . However, Class 12th Board  examinations have a different kind of sanctity attached to them , because all higher studies opportunities and career choices, both in India and abroad ,  depend on it .So, postponing the class 12th exams and not cancelling them is a good decision…. Sangeeta Hajela, Principal, DPS Indirapuram
Cancelling off-line examination is indeed a great move as there is an alarming increase in Covid cases. But it is not a complete cancellation. The board is planning to design a new objective criterion to assess the students of class X. The pattern should be shared as quickly as possible with the schools to enable the teachers to get the students ready for the same. I welcome the decision taken by the government… Pallavi Upadhyaya, Principal, DPS-RNE Ghaziabad
 Considering the current scenario, where we do not have enough online provisions throughout the country, it is a practical move. Having said that, in the entire year of the pandemic, we have not been able to develop our country to  provide education to students all over the country. Had we been prepared for it, we could have made online provisions for the same.  Its unfortunate that the students have put in so much effort throughout the year to achieve their desired result in board examination for nothing but in the current situation, health comes first for all. We should fight corona together and get vaccinated as soon… Rajat Goel, Director, MRG School, Rohini
"The COVID-19 pandemic has shaken the entire nation since March 2020. As the current examination cycle is upon us, and the second wave of COVID-19 is impacting more people and children across the country than before, the recent decision of the CBSE Board authorities to cancel Class 10th examinations and postpone Class 12th examinations is a welcome step in alleviating students' and parents' concerns about offline examinations. At EuroKids International, we will adhere to the CBSE Board's decision on the 'objective criterion' for the Class 10th students, and await to hear from the Board on the dates for the Class 12th students. While today's announcement offers much relief, the Class 12th students remain on tenderhooks as to when their year will close. This postponement of their examinations will impact college admissions for the coming year, as the exam, paper checking and results announcements remain open"… Prajodh Rajan, Co-Founder & Group CEO, EuroKids International 
The postponement of class XII examination does have cascading effect on admissions to UG courses in universities and colleges as class XII scores determine the intake in most of them. So some early reactions from a few universities have also tickled in:
"While the CBSE Board's decision to postpone the Class XII examination will help provide relief for students in this second wave of the pandemic, this will however impact colleges and universities. Like all higher education institutions, we will have to assess the admission cycles and processes for the incoming 2021-2022 batch to accommodate the postponement of Class XII final examinations."… Dr. Dishan Kamdar, Vice Chancellor, FLAME University
 "Our admission process largely remains unaffected by the decision to postpone CBSE Class XII exams. In the wake of the pandemic, we had altered our admission process last year. We are making provisional admission offers to candidates based on their performance in the remotely-proctored entrance tests – SNUSAT and APT – and personal interviews. Selected candidates need to secure a defined minimum percentage in Class XII Board to secure admission, which can be updated whenever the results are declared. We also accept admission applications through JEE, SAT and ACT scores." – Spokesperson, Shiv Nadar University Delhi NCR