By Ankit Agarwal, Co-founder and COO of Crejo.Fun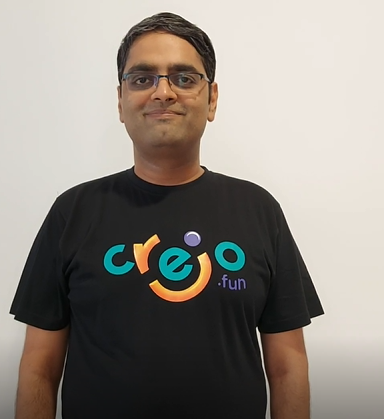 The world we live in at present is inhabited by people who have become competitive in every field known to men. Children, from their formative years, are being trained to become self-reliant with high esteem to survive in this new world. That said, Indian parents today are playing a greater role in their kids' lives, which didn't happen until a decade ago. They have increased the amount of time, attention, and money into raising their children to give them the best start of life and ensure that they can zero in on every bit of advantage over others.
Indian parents are doing this by mastering hands-on childcare- chipping in extra time into activities like reading to children, helping with their homework, taking them to lessons, attending their performances and games, and more. The evolution of the internet has also allowed Indian parents to gather abundant information from parenting-centred websites and learn more about modern parenting to shape their kids' future. With the pandemic keeping most of us at homes, Indian parents are now able to spend more time with their children, which have made the entire experience more enjoyable and intensive. Apart from the above activities, they are now opting for unconventional methods to raise their kids.
The evolution in parenting style
The century-old thought process of making the children grow up to become doctors, engineers, or lawyers are slowly starting to fade away. Today, several Indian parents have adopted an empathetic and indulgent approach and have started respecting their kids' likes and dislikes. Thinking beyond the societal pressure, they now understand that excellence in an area that interests the child is far more valuable than pushing the child to do something they are not keen to. Besides being a parent, they play a multitude of roles (child's friend, confidant or cheerleader) to know more about their children and help them identify and pursue their interests.
More focus on creativity and extra-curricular activities
Gone are the days when Indian parents only pushed their kids to acquire textbook knowledge. As extra-curricular activities help children become creative and open-minded, parents are willing to go the extra mile and find the right resources for specialized and enriched activities. They want their children to perform better and are keen to invest their resources towards identifying and nurturing their latent talents. Also, amid the ongoing pandemic, extra-curricular activities are helping the children stay positively engaged and joyful.
Using technology to their advantage 
In today's online world, parents need to structure the digital experiences of their children to help them thrive in a connected world. They are now engaging in social media and other aspects of technology along with their children, from maintaining their personal Instagram handles (Joint Media Engagement) to buying personal devices for them at an early age.
Home-schooling is the new norm
With traditional educational practices prevalent in the country, many Indian parents are choosing to home-school their children, which allow them to pursue their distinctive self-directed learning paths. Home-schooling is a great way to foster innovative learning within the kids and allow parents to have greater control over their kids' learning. Though home-schooling is mostly common in the upper-middle-class families in Bangalore, Mumbai, Noida, and Gurgaon, it is slowly gaining popularity in other families and areas, especially since we are looking at another year of online schooling. Opening up of specialized online learning platforms is further aiding the adoption of home schooling.
As the world is constantly evolving, Indian parents have to understand the need for modern parenting and give their children more freedom and resources to pursue their interests to have a bright and successful future.