After the revolutionary iPad was launched in 2010, it was being speculated that tablets would soon replace laptops and PCs. However, ten years later, it is clear that those speculations were wrong. While smartphones and tablets have become the primary choice for media consumption, most consumers and offices still rely on laptops and workstation PCs for getting the real work done. The importance of these devices was amplified even more during the COVID-19 pandemic and related lockdowns all over the world. According to market research firm Canalys, laptop and mobile workstation shipments surged a whopping 28.3% YoY in Q3 2020.
A sudden surge in work-from-home and remote learning demand led to a shortage of stocks and a hike in prices for computers and laptops. Even the prices of used products and PC components shot up during the period, leaving many consumers struggling. Some couldn't buy new or used laptops for their children even as e-learning emerged as the only viable learning solution amid the pandemic.
Even those who had access to laptops struggled with various hardware and software-related issues. With that in mind, we studied the problems troubling Indian consumers the most. We studied over 8,000 laptop issuesto share these key observations and insights.
What are the Most Common Laptop Issues in 2020?
With the advancement in manufacturing technology, hardware components are getting smaller with each year, and it is getting harder to replace them if something goes bad. In 2020, of all laptop issues we studied, hardware issue was the most common type of problem.
More than 82% of all the laptop issueswere hardware-related. Software-related problems accounted for just 17.26% of all the laptops. This clearly shows that most laptops face hardware-related issues, and fixing such issues often proves costly and more time-consuming.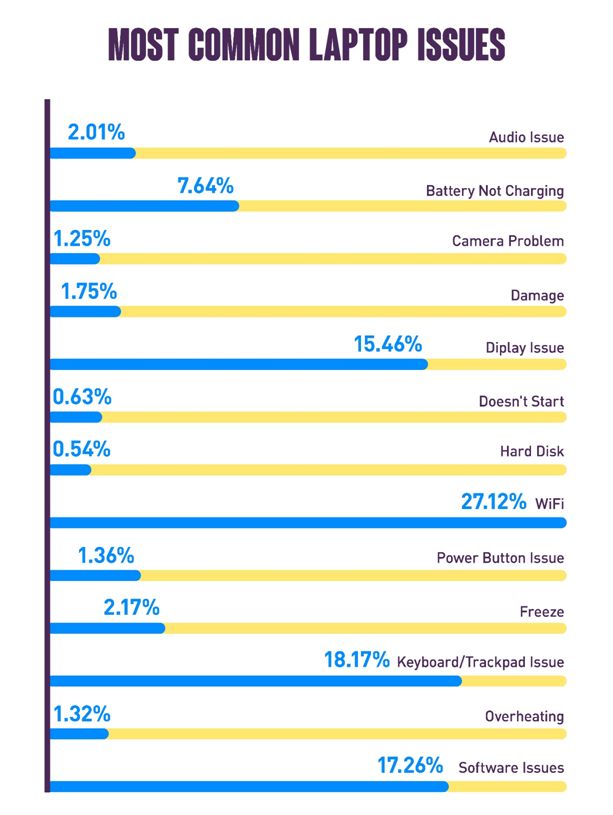 Breaking down hardware-related issues, we found that a majority of users faced problems with the laptop's keyboard, trackpad, display, and Wi-Fi. While we expected display and keyboard-related issues to be among the most common problems, it was quite surprising to see so many laptop users in India were bugged with Wi-Fi-related issues. Around 27% laptop service requests revealed problems related to Wi-Fi connectivity. More than 18% of laptops faced issues related to the keyboard and the trackpad, while display issues accounted for more than 15% of laptop service requests. Battery and charging related issues also bugged a considerable amount of laptop users (7.64%), and their laptops simply wouldn't charge or had short battery life or a bulged battery.
Some laptop issues such as frozen devices and users unable to boot their laptops are also related to the motherboard. In a few cases where a laptop's issue can't be identified are mostly related to the faulty motherboard.
All other issues, including audio, bluetooth, exhaust fans, hard disk, overheating, physical damage, power button, and webcam, accounted for around just 2% of laptops.
More than 17% of the laptops faced software and operating system related issues. Most of the users who faced operating system and software related issues on their laptops reported problems related to applications and hung systems. Almost half of the laptops that had software related issues were due to individual applications, be it due to incompatibility or buggy and resource-hungry apps. A whopping 40.3% of users reported that their laptop would just get stuck or hung in the middle of their usage, and that could be due to inefficient background apps, malware, or viruses. Of all the laptops that faced software issues, 3.27% of laptops faced issues due to Windows updates.
As the COVID-19 lockdown dragged on for several months in India, a lot of people faced laptop related issues while they were working and learning from the confines of their homes to stay safe from the deadly virus.