The Association of Chartered Certified Accountants (ACCA) and IFAC (the International Federation of Accountants) in their new report published titled Groundbreakers: Gen Z and the future of accountancy have highlighted that employers are missing opportunities to attract more young people to Accountancy.
Almost 19,000 ACCA students and members under the age of 36 and from 150 countries participated in the Generation Next study, making this one of the largest surveys ever across the global profession.
Gathering the views of 1,086, 18 to 25-year olds in India, the report throws fresh light on the aspirations and fears of this up-and-coming generation of young professionals, while also offering employment advice for them and employers alike.
48% of Indian respondents see accountancy as an attractive career, providing long term prospects and portability with access to jobs that span internationally and across industries. But this is a generation concerned about the future – 65% identified lack of job opportunities / job security as a concern versus a global average of 58%. Just under half – 49% – of Indian Gen Z are concerned about their wellbeing and mental health.
The report also reveals that employers are missing opportunities to attract more young people to the profession's ranks, especially as 67% of Indian respondents said they expect to have multiple careers in different sectors.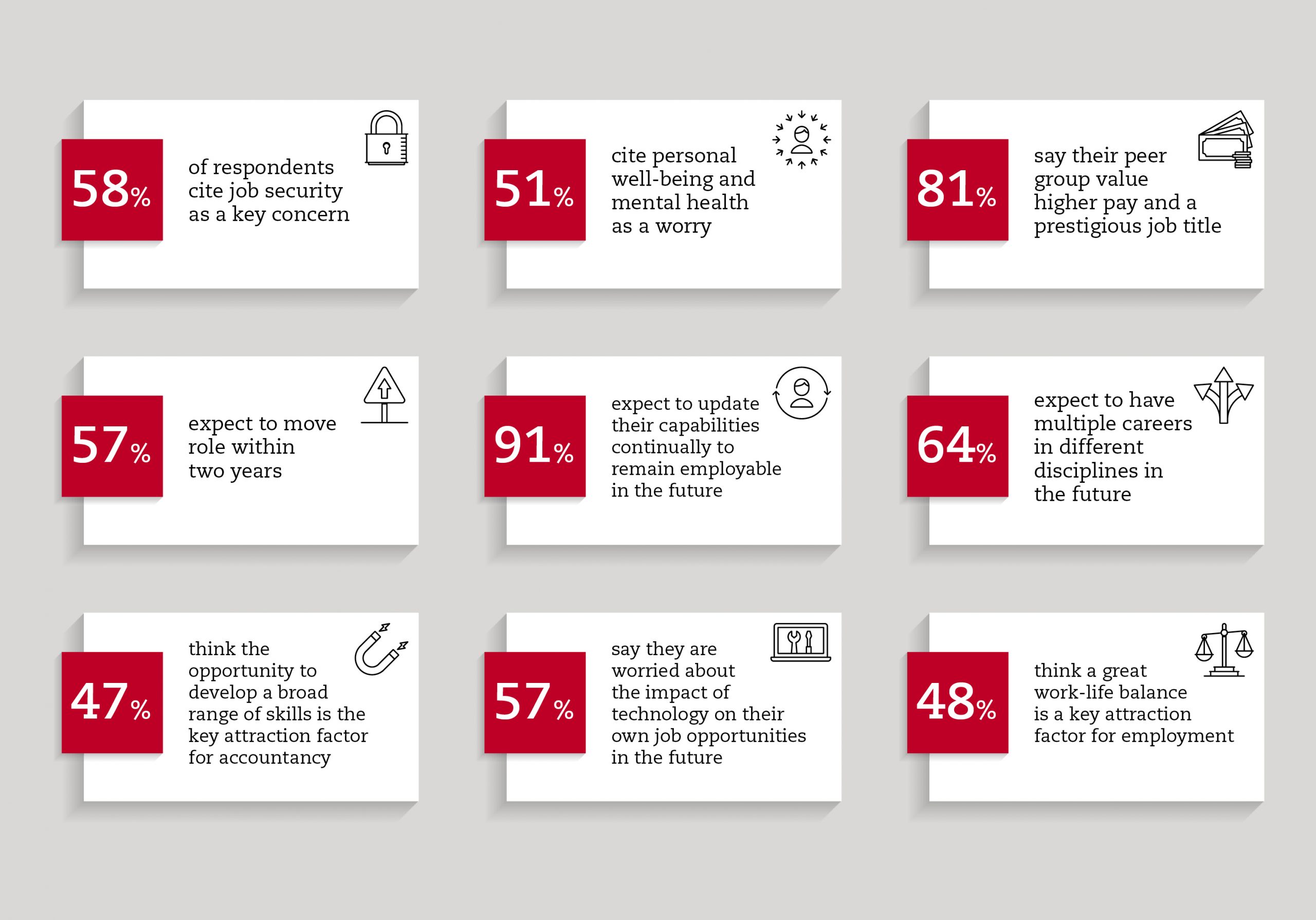 The global data in this survey suggests Millennials in the accountancy profession are well equipped to deal with change driven by digitisation and globalisation. They have a global outlook, often aspiring to work in another country in their next role or at some time in their careers. They appear technologically savvy and see technology as an opportunity. They are also prepared to switch jobs quickly to attain what they want from their careers.
The data also suggests they see themselves having careers in the profession and sometimes beyond, looking at the entry into the profession as a pathway to a broad range of business opportunities.
 The five career zones of opportunity
We see five exciting career zones of opportunity in accountancy merging in the future. All of these work to build sustainable businesses and represent broad areas of career opportunity.
The assurance advocate is essential to the strong stewardship of sustainable organisations for the future in areas such as auditing, risk management, and compliance. They bring new levels of trust and integrity to organisational operations.
The business transformer is the architect of organisational change, driving the strategies of organisations, and supporting sustainable businesses for the future. They may be leading innovative smaller accountancy firms or SMEs, or exploring careers in advisory or business transformation.
The data navigator is a true business partner. They see extraordinary opportunities from the growth of data and uses emerging analytical tools to drive insights that deliver business outcomes. They champion ever-growing multi-rich data sets and use smart data to generate brilliant forward-looking analysis to support decision making.
The digital playmaker is a technology evangelist, who champions technology adoption and data governance within the organisation and sees remarkable possibilities with emerging digital tools in transforming the organisations in which they work.
The sustainability trailblazer is at the heart of performance management in the organisation. They play a key role in establishing frameworks that capture, evaluate and report on the activities that truly drive value and in ways that are much more transparent and meaningful to the outside world. They will transform management accounting fit for a multi-capital world and see emerging opportunities with better external disclosures to ever-growing stakeholder groups.
Md. Sajid Khan, Head of ACCA India says: 'The coming decade presents a clear opportunity for Gen Z to play a significant role in transforming how organisations become sustainable and adopt change effectively. For the accountancy profession, this represents a potential turning point and these young people will help create a workforce that is more diverse, more inclusive, and which will make businesses more cognisant of their broader role in society. Our report explains how Gen Z will bring their talent and tech know-how to the profession and change it, pursuing careers with purpose and doing jobs that make a difference. It's a message of opportunity and positivity as we work towards the UN Sustainable Development Goals.'
India Generation Z is determined: looking at their own peer group, a massive 91% say they are ambitious to progress quickly; 91% also value purpose and meaning in a job.
As expected, they're also tech savvy – 86% say they're very comfortable with technology and pick up new tech fast, and 82% say technology will enable finance professionals to focus on high-value-added activity.
For those already working as accountants, 45% were drawn to it because of long term career prospects, and 50% for the opportunities to secure a professional qualification. This perception changes for those respondents who are looking to become accountants with 48% attracted to the profession for the global portability it offers.