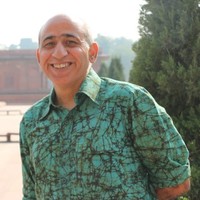 As the new normal seems to be finding its bearings in a world that had been brought to a screeching halt due to the corona pandemic, professional action, skills, and attitudes would be recalibrated. Economies have started gearing up and we look optimistically. Some fear sustainability will take a hit as companies attempt to recoup their losses and move forward and government recover with their reduced budgets and increased social development deficit. COVID-19 offered a chance and made a way to reset and reshape the world in a more sustainable way. Though it will not be an easy step after all the halts and the restrictions we faced because of the Virus, it is possible.
Management education is at the crossroads. Every day new creations, products, solutions, business models, management systems are being reinvented given the challenges by business, industry and on the economic, environmental, and social front. The MBA program is designed with a vision of bridging the gap between advanced technology, management science, Social Science and Environmental Science.
MBA Development Management is an outwardly looking globally relevant programme which envisages an integration of the challenges of Developmental paradigm and an approach to meet these professionally. The graduates from this programme would be trained in issues germane to 21st century. Students would be equipped to deal with those with knowledge in analytics, financial and human resource systems, sustainable development approach. It's a programme that seeks total Developmental Transformation for 21st century. These professionals would also play a role in the country's endeavour to attain Sustainable Development Goals. Graduates emerging from this programme will contribute to evidence-based policy and program planning, implementation, and management of Rurban and Urban Development Transformations, facilitate citizen engagement for accountable governance of public systems, management of CSR initiatives and Flagship Development Programmes of Government of India.These professionals would also play an essential role in the country's endeavour to attain Sustainable Development Goals.
Salary & Program Objectives:
A good career start leading to a broad scope for career development and skills is something everybody craves for. The graduate from MBA in Development Management programme would be trained in issues relevant to the 21st century with the essence of a glorifying career. The course framework is for two years with an average fee beginning from a range of 5.25 lakhs. Candidates graduating from MBA DM receive an average pay-package of Rs. 5-7lac p.a. as a fresher, eventually if one grows as a Research Analysts / Sustainability Manager, he/she can draw a salary package of Rs. 12 lakh p.a.
Who can apply:
Candidates with a minimum work experience or those who have graduated from any discipline a degree in any discipline can apply. Candidates must have a CAT/ XAT/ NMAT/ MAT/ CMAT/ ATMA/ GMAT/ IIHMR UMAT Score Card, Certificate(s) of work experience.
Scope after completion of MBA Development Management:
The candidates can work in domestic and international organizations working on poverty alleviation, community development, healthcare, women's development, biodiversity, conservation, disaster mitigation, small enterprise creation and advocacy. They can also contribute to Facilitating citizen engagement for accountable governance of development transformation, Managing Flagship Development Programmes of GoI, Development Management of CSR initiatives.
Job opportunities: 
MBA degree in Development Management offers a plethora of opportunities to the candidates. Here we have listed down the areas where Development Managers can work and explore profiles in sectors:
Energy and Natural Resources Production Sector
Management roles in industries focused on sustainability
Supply chain or Logistics Management sector
Marketing Sector
Investment Sector
Financial fields personnel
Urban and Rural Development Areas
Relationship Manager
Business Development Executive
Business Development Specialist
Associate Market Manager
Development R&D/Training Leader
Lecturer and Professors
Business Development Executive
Evidence-based policy and program planning
Management of Rurban and Urban transformations
Citizen engagement for accountable governance
Besides their demand in the industry, these graduates would also be trained to get into something of their own and become social entrepreneurs and bring up their own companies (start-ups) in the upcoming fields related to sustainable business development and ensure that they become job providers than becoming job seekers.
COVID-19 has created a sense of urgency with more and more course of action being focused on the Urban and Semi-urban segments. Immigration, changes in the socio-economic backdrop, Environmental change and massive change with the evolution of technology put together have created multiple challenges and opportunities right in the face. MBA Development Management also helps students to analyse and arbitrage opportunities between global economies, understand their practices, design & implement policies and practices for better sustainability. MBA Development Management has huge scope in careers  relating to cleaner technologies, renewable energy resources, better management solutions, public private partnerships, citizen participation for accountable and efficient public systems and realization of inclusive sustainable development.