"Man is made by his belief. As he believes, so he is." – Bhagavad Gita.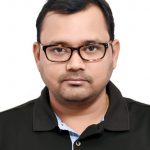 In this age of rising peer pressure and everyday burden on teenagers is hard to ignore. In today's world 8-12 year olds are introduced to self destructive concepts like materialism, lust, anger as well as greed, which impact their decision making ability and hampers with their perspective later in life. Therefore, value-based education is required to inculcate moral values, etiquettes, discipline and social principles from a very young age.
The philosophies of Gita are profound to help adapt to the pressure and bring inner peace to help with the transformation when applied in real-life circumstances. Wisdom and an intense urge to learn is what the text tries to inculcate within the readers. The holistic development of children from young adolescence which the modern education system has not been able to provide can now be bestowed by bringing back these narratives of the traditional texts. Hence, Gita learning is important as it improves education and enlightens the mind about everyday living.
Globalization has changed the world forever and along with it came the subsequent rise in the adoption of technology creating a paradox between the traditional and the modern methods of approaching life. From a doctor's prescription to navigating to a location, our way of living is completely fine-tuned on the lines of technology. The era of globalization has substantially developed many facets of life, education being one of the prominently affected sectors. Modern Education is very heavily enriching GEN X-Z to evolve and extract knowledge on the lines of STEM education. Collaborative enhancement of technological tools in the virtual realm of the world though dismisses the idea of traditional education practices.
At the same time, however, roots of the holistic learning approach cannot be dismissed, especially in a country like India that has enlightened the world in fields of economics, mathematics, religion, yoga, sociology, medicine, literature and many other fields of sciences for thousands of years. In the reimagination of things after witnessing long covid pandemic and its impact, a lot of this philosophical advantage is being excavated. With mental health emerging as one of the biggest health challenges in the world, the need to spirituality and its experiences have amplified.
Human and moral values need a refresher to provide a holistic educational experience in today's world. Therefore reference from traditional texts is an option of big dividend. One such ancient text is the sacred Hindu scripture, Gita, a series of dialogues between Lord Krishna and (warrior) Arjuna, revolving around giving up the incessant human desire, which reflects upon our work and course of actions further in life. These texts have become more meaningful in today's world as these add values to self belief.  With the help of mantras, yoga and teachings contained within this dialogue, a student can move towards an overall mental peace, optimism, flexibility for clarity of thoughts and simplifying the complex carnal desires.
The educational  philosophy of Gita covers all the major facets of life. Gita teaches students how to build self confidence and believe in themselves as "Man is made by his belief. As he believes, so he is." – Bhagavad Gita. It also teaches them to work hard for their goals with devotion and not worry for the end result as success follows the footsteps of those who are hard working and free from greed, lust and anger. The intellect of Gita liberates people from the evils that distract them and lead them towards an unhappy and unsatisfied life. Redemption from human greed along with a stable and smart attitude can lead to a quality life. The modern science of education and skill-based learning, when combined with these traditional and ancient philosophies, can enlighten and uplift the child's state of mind noticeably.
The modern education system, where grades and marks weigh more than personality development and personal enlightenment, is focused towards subject-based learning. Mugging up knowledge and a competitive spirit within students is promoting a rat race for marks and a successful career based on scholastic developments. However, it doesn't add to scholastic pursuits and holistic development, rather it ends up in mental and physical health issues.
The importance of inculcating right kind of values is recorded in the Gita.  So, let's turn to Gita for great lessons and help build lives of our children with values of life itself.
Ashish is the Founder and CEO of Bambinos, an online learning platform for children